My Journey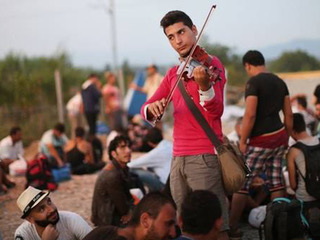 Here's a lovely story for those of you fed up with the rather depressing news we have to face every day at the moment. This photo, taken on the Greek Macedonian border last year, was shortly after this young Syrian violinist crossed the Mediterranean Sea with his violin in a dinghy. The boat capsized three times but Rami had wrapped his violin in plastic and swam with it on his back to safety.
It was very moving to work with this brave young man and we really hope this album gives him a leg up in life so please support it and buy a copy. Red Cross Week begins on 7th May and we recorded the Red Cross single with him playing the European National Anthem, Ode to Joy (Beethoven with additions from the Arabic scale!).
Do watch this short video where he tells his story, it is accompanied by a piece we specifically wrote for him.
https://www.youtube.com/watch?v=GkJkdbzyLXI&feature=youtu.be